Teolliset valmistustekniikat kurssilla suunniteltiin tuote VTT:n kehittämien keraamisten vedesuodattimien ympärille. Itse suodattimet ovat halkaisijaltaan vain 20mm ja paksuudeltaan 5mm. Kahden barin paineella suodatin suodattaa vettä noin viisi litraa tunnissa. Ryhmäämme kuului lisäkseni Anna Vienamo, Rasmus Haikka ja Laura Hietala.
In the industrial manufacturing techniques course, we were given an assignment to design a product that would use ceramic water filters invented by VTT. The ceramic filters were 20 mm by diameter and with 5 mm height. With the pressure of two bars on ceramic filter can filter about five liters of water in an hour. This was a group assignment and part of the group were me, Anna Vienamo, Rasmus Haikka and Laura Hietala.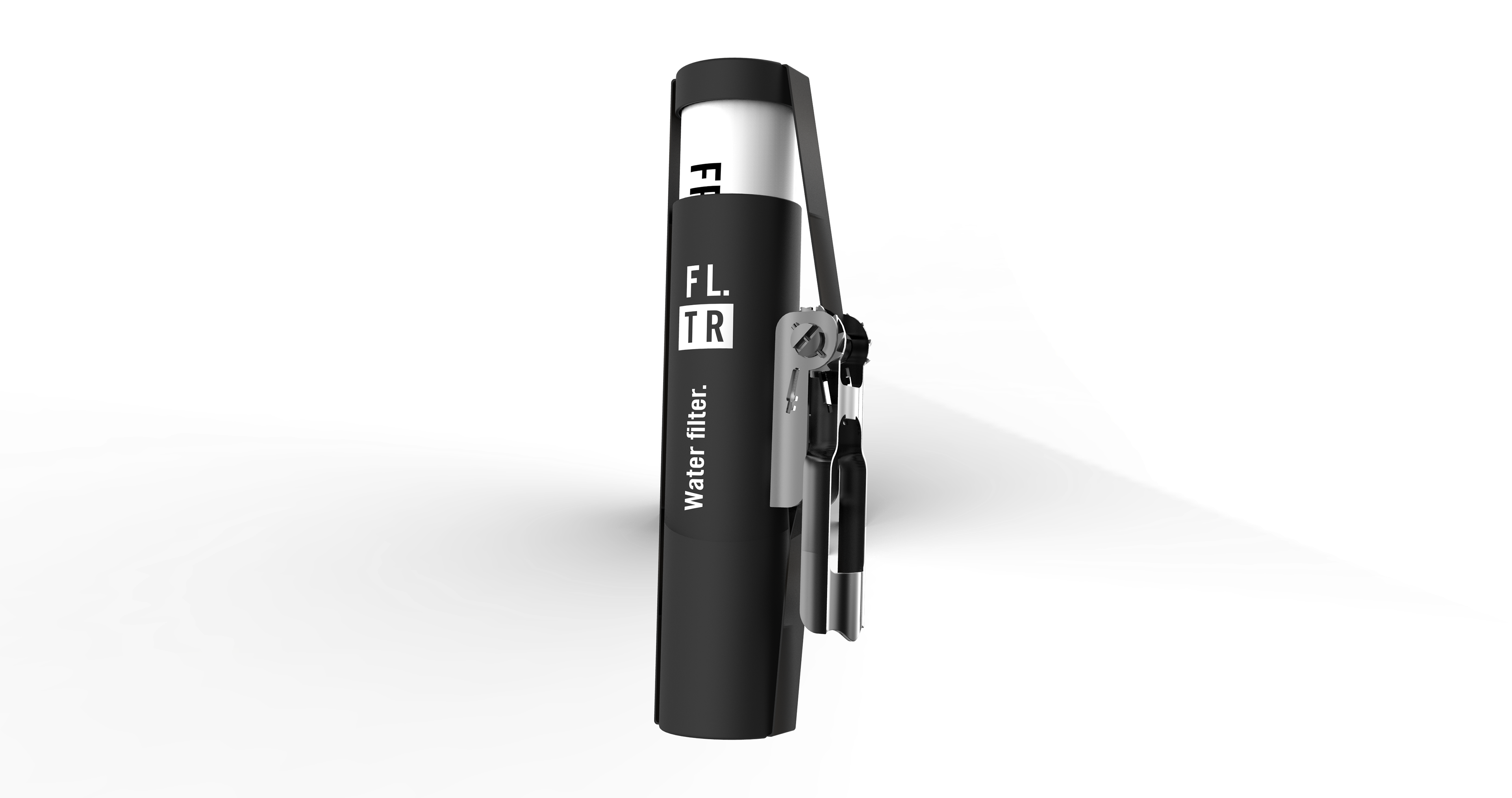 Lähdimme kehittämään retkeilyyn suunnattua varustetta. Retkeily ympäristöön soveltuva tuote asettaa jo itsessään joitain vaatimuksia. Tuote pitää voida pitää puhtaana, sen on oltava pienehkö ja helppo kantaa mukana. Tuotteen tulee kestää ympäristön rasituksia kuten lämpötilavaihteluja ja UV-säteilyä. Laitteen pitää myös tuottaa tarpeeksi painetta, jotta veden suodattaminen olisi mahdollista.
We chose to do a product for camping. The environment of camping sets some requirements for a product. The product needs to easy to keep clean. It needs to be small and lightweight for easy transporting. It needs to withstand mechanical stress and environmental hazards such as heat and UV-radiation. The product also needs to be able to generate enough pressure to make use of the given ceramic filters.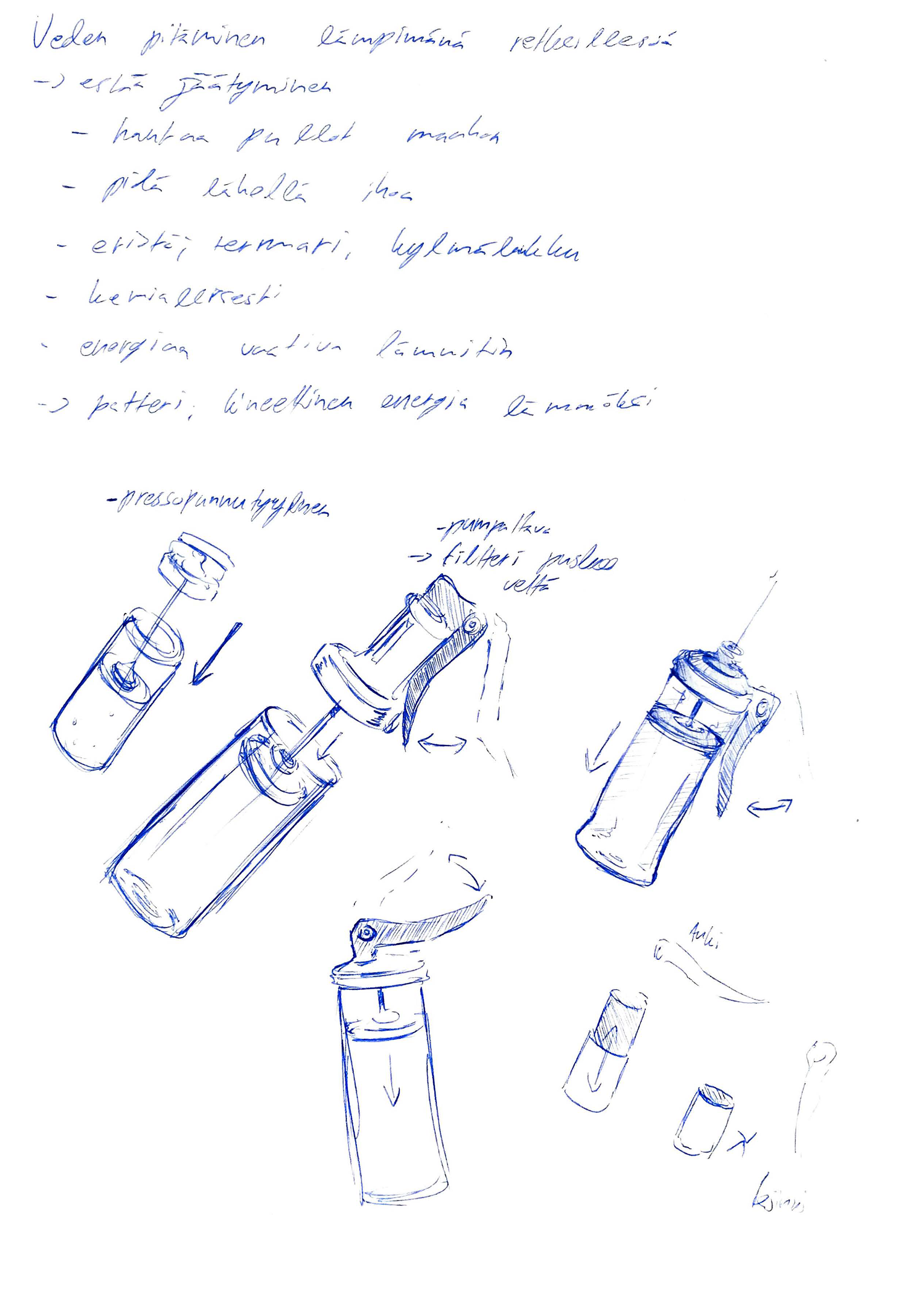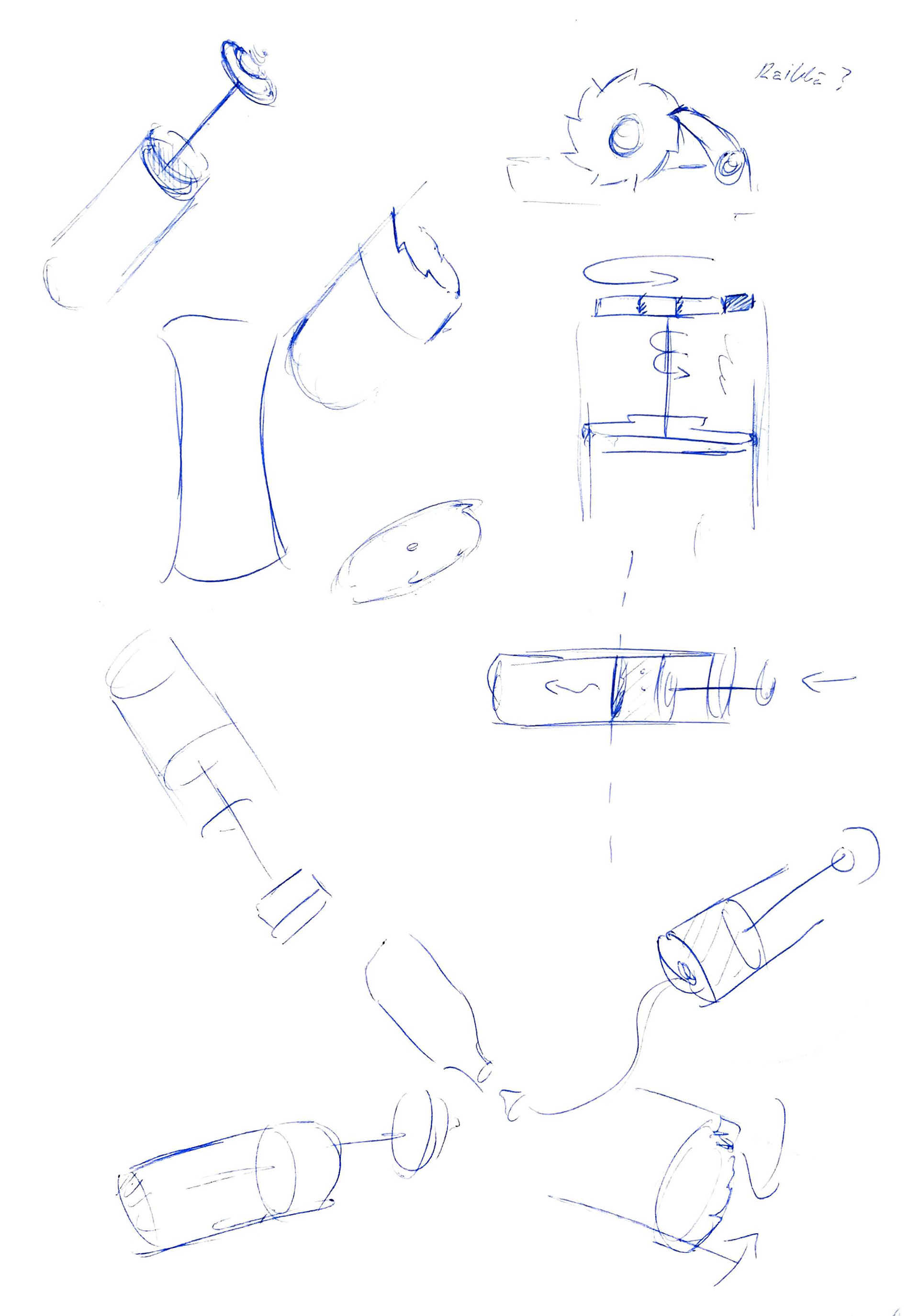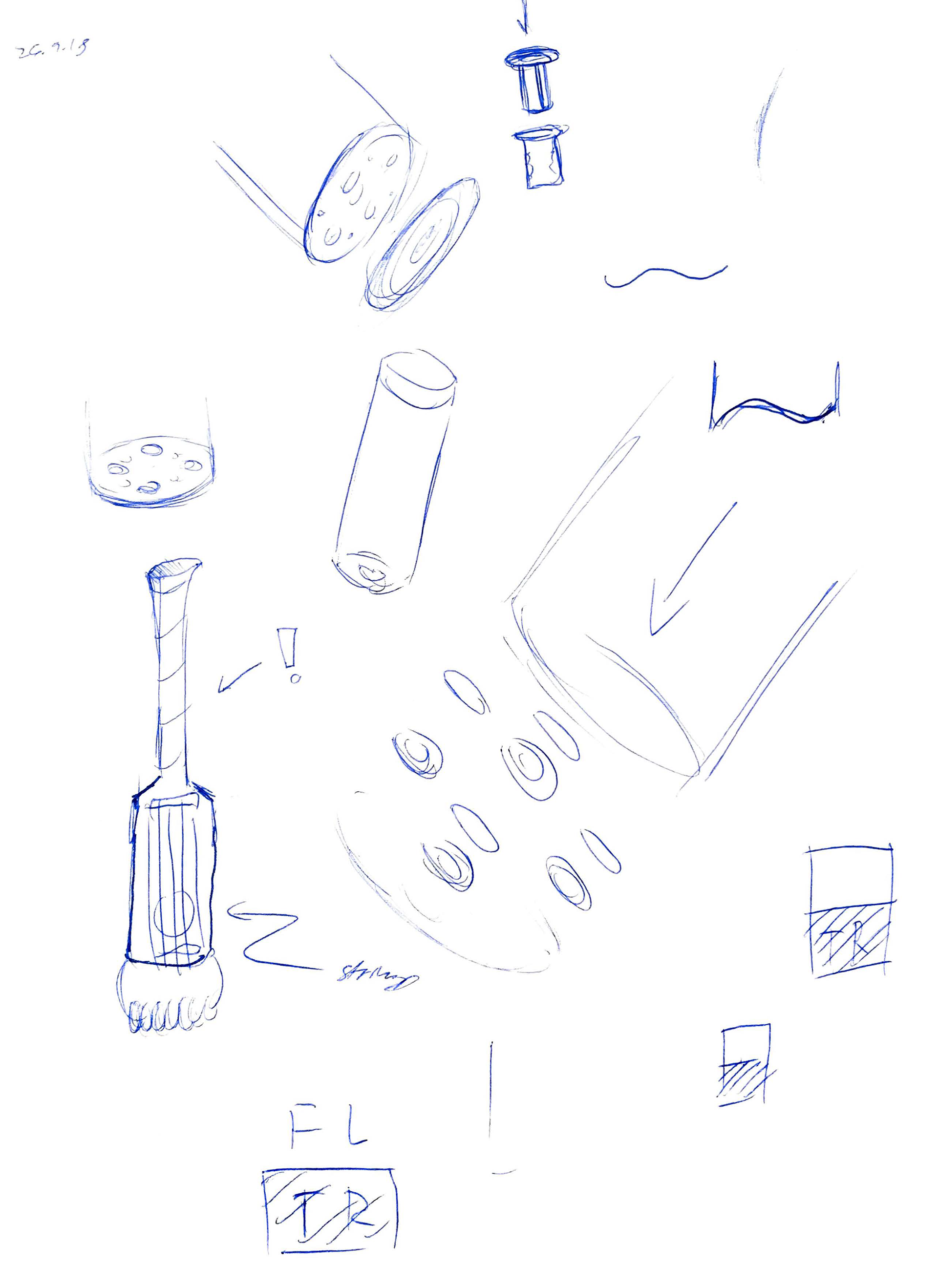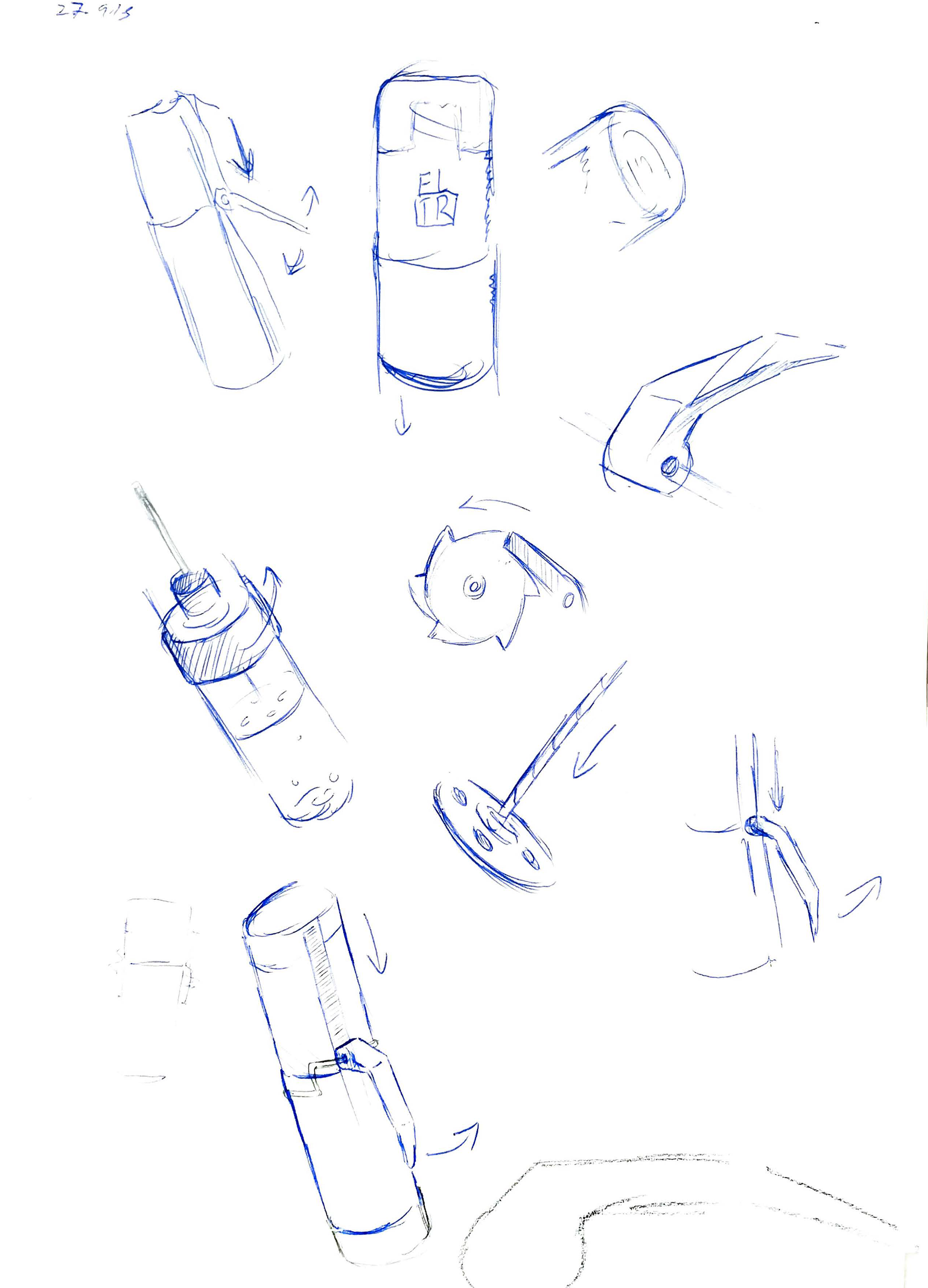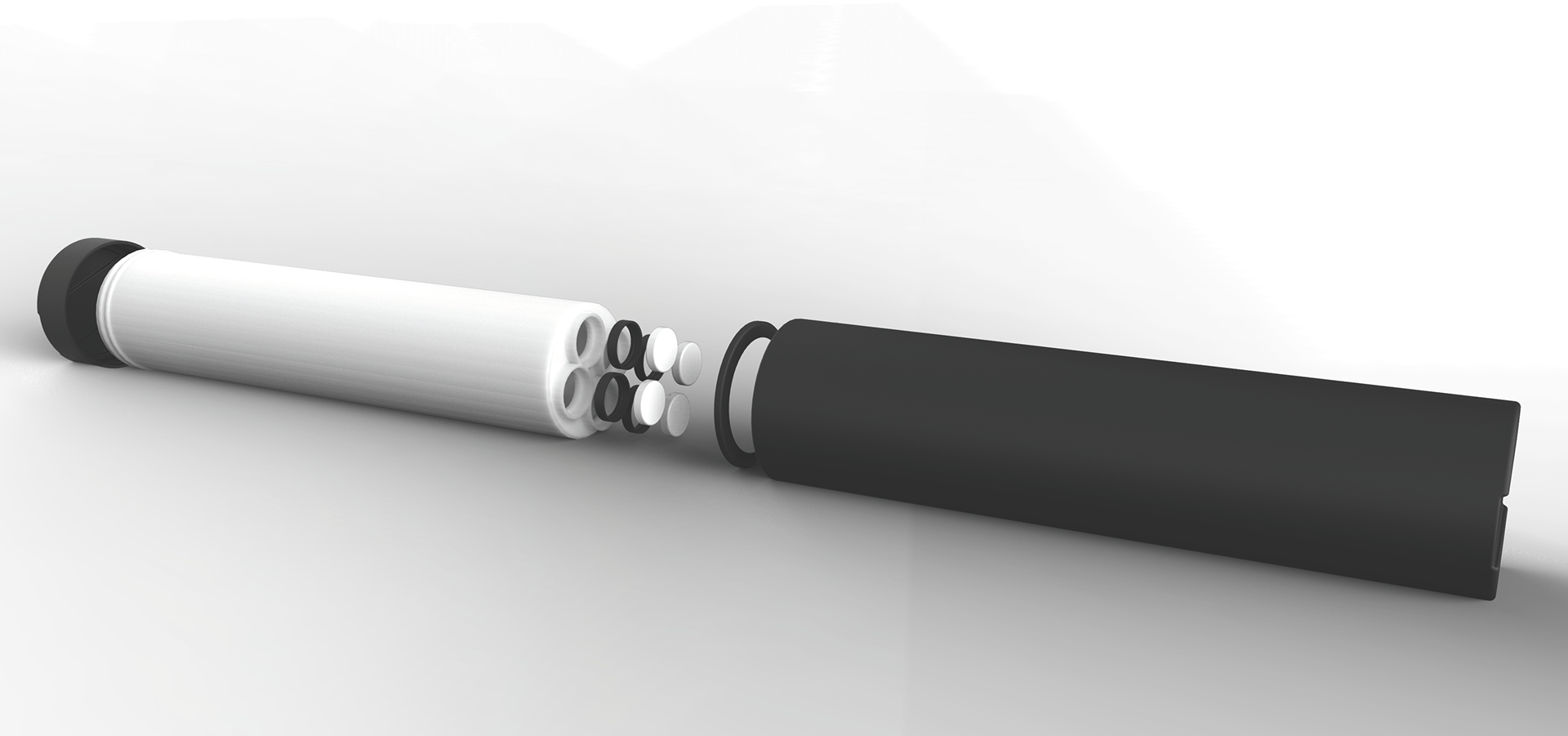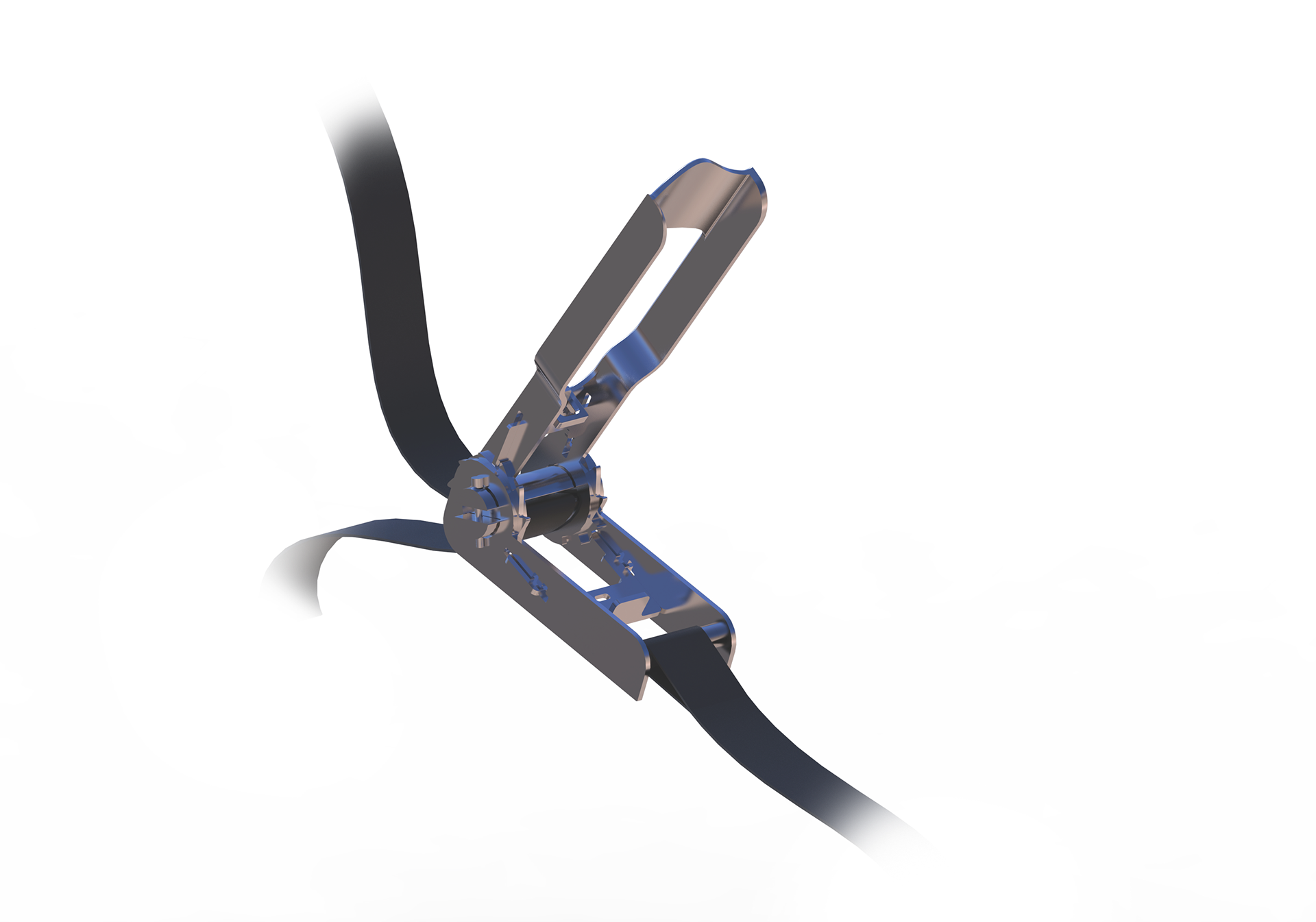 Pullot erotetaan toisistaan, ulompaan mustaan pulloon laitetaan puhdistettava vesi ja pullo täytetään tiivisteeseen asti. Sisempi pullo asetetaan ulomman pullon päälle ja vesi puristetaan kuormaliinan tuottamalla paineella ulommasta pullosta sisempään pulloon keraamisten suodattimien läpi. Keraamiset suodattimet ovat sisemmän pullon pohjassa. Jotta ilma, joka korvaantuu suodattimista tulevalla vedellä pääsisi pakoon sisemmästä pullosta, on korkki jätettävä yhden kierroksen auki suodatuksen tapahtuessa.
Suodattimet on helppo irrottaa pullosta ja puhdistaa. Kyseiset keraamiset suodattimet ovat siitä hyviä, että ne voidaan puhdistaa polttamalla vaikka nuotiossa. Pullo suodattaa vettä nopeasti noin 700 ml. Painoltaan pullo on kokonaisuudessaan noin 390g. Muut mitat; korkeus 30mm ja halkaisija 70mm.
Pullot on valmistettu polypropeenista sen ominaisuuksien vuoksi. Polypropeeni on jäykkää ja sillä on hyvä väsymiskestävyys. Se kestää kemikaaleja ja siitä on elintarvikesoveltuvia laatuja. Polypropeenia voi prosessoida ruiskuvalulla, ekstruusiolla, puhallusmuovauksella, lämpömuovauksella, tyhjiövalulla ja rotaatiovalulla. Sitä on helppo työstää monin eri tavoin kuten hitsaamalla, poraamalla ja sorvaamisella. Pullon tiivisteet on valmistettu silikonista. Silikoni kestää lämpötilanvaihteluita. Siitä voi tehdä hajutonta ja se on vedenpitävää.
Valmistustekniikka tälle tuotteelle olisi kaksiainevalu. Se on helppo valmistaa tällä menetelmällä. Se on myös hygieeninen valmistustapa ja se vähentää hukkuvien osien määrää.
Kuormaliina valmistetaan levytavararosterista leikkaamalla ja taittelemalla. Kuormaliinan liina itsessään on polyesteriä.
We came up with a camping water bottle that can clean dirty water. The product consists of two bottles that are first separated from each other. The dirty water goes on to the outer black bottle. The inner bottle has four ceramic filters on the bottom of the bottle. The white bottle is pressed inside the black one with the help of a cargo ratchet strap. The water flows from the black bottle to the white bottle through the ceramic filters. For the filtering to take place the cork of the bottle needs to be left open at least one turn in order for the air to escape the white bottle, which is being replaced by water.
The ceramic filters are easy to take out for cleaning. The filters can be sanitized by predisposing them to extreme heat, for example from a campfire. The bottle can filter 700ml of water quite quickly. The bottle weights 390g empty with the strap. It is 30 mm tall and 70 mm by diameter.
The bottle is manufactured from polypropylene for its abilities. Polypropylene is stiff and it withstands strain. It survives chemicals well and can be made food safe. It can be processed by injection moulding, extrusion moulding, blow moulding, heat moulding, vacuum casting and rotational moulding. It is easy to machine with drilling, welding and turning. The seals located in many places of the bottle are made from silicone. Silicone withstands heat and it can be made odourless and waterproof.
The manufacturing for this particular product was chosen to be multi-material injection moulding. It is a hygiene way of making this product since it reduces the number of possible missing parts.
The ratchet strap is made out of stainless steel by cutting and folding. The strap is polyester.